Apple to announce ARM-powered MacBooks at November 10 event
In this week's Apple stock news, according to GSM Arena, Apple will announce next week three new MacBooks with the ARM-powered processor – a new MacBook Air and two Pro models coming in 13-inch and 16-inch flavors.
60+ New Patents Granted
According to PatentlyApple, Apple was granted by the United States Patent and Trademark Office more than 60 new Patents covering various Systems.
While one of Apple's patent focuses heavily on "shortwave infrared light," an essential component of next-generation Touch ID, some are related to Head Mounted Device systems and/or glasses.
One of Apple's granted patent covered a lot of territories which included the understanding of gestures via special algorithms that could also understand which limbs the device is being worn on; adds new health measuring sensors like reading Blood Oxygen levels, and adding Touch ID to the display of either type of device.
Apple MagSafe Duo Charger Might Launch Soon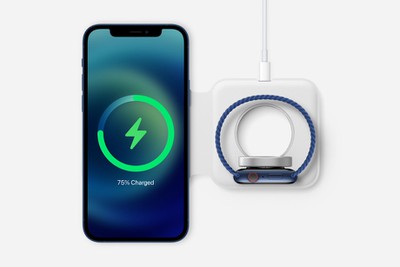 According to MacRumors, Apple's unreleased MagSafe Duo Charger has passed Korea's National Radio Research Agency compliance test, a possible indication that the wireless charging pad is almost ready for shipment.
Apple announced the ‌MagSafe‌ Duo during its ‌iPhone 12‌ launch event in October. Apple hasn't provided specific availability or price details for the charging pad.
Apple Pay Support Expands Worldwide
According to Apple Insider, the Bank of Ireland announces support for Apple Pay. Despite Apple Pay coming to Ireland in 2017, one of the nation's largest banks has only now announced support alongside a newly updated Bank of Ireland iOS app.
According to another report, Apple Pay will soon be supported in Israel. Following recent months of negotiations, Isracard has become the first Israeli financial company to announce support for Apple Pay, following eight months of disagreements over Apple's commission. Neither Isracard nor Apple have publicly announced the support, but the financial company has officially told the Israeli stock exchange.